Romanian Air Force - Forţele Aeriene Române
Caracal - Deveselu
(Baza Aeriană 91)
July 2006
Air Base 91 (Baza Aeriană 91) had been the home of the 91st Fighter Group (Grupul 91 Aviatie Vanatoare) before 2002, when flying operations ended at Deveselu airfield. At that time it was the only Romanian Air Base flying non-LanceR MiG-21s. 29 classic MiG-21s, comprising a range of variants (MiG-21F-13, MiG-21M, MiG-21PF, MiG-21PFM, MiG-21U-400, MiG-21U-600, MiG-21US) and a sole IAR-93 remain grounded from the time of the base closure. In an interview with the current Base Commander, Capt Cdr (Lt Col) Pintilie Brinzai, he said that they were trying to sell the remaining MiG-21s, which would be demilitarised prior to sale.



Apparently one has already been sold to a Japanese restaurant owner. Any aircraft not sold is to be scrapped by Aerostar at Bacau, probably in 2007, we were told. Brinzai, who has been here since 1983 and speaking with some nostalgia, said that Deveselu was; "Most powerful Air Base in Romania in the 1980s and now nature conquers the aircraft." Then it operated both day and night to protect Romania's air space, with four squadrons of aircraft flown by 100 pilots. By the 1990s its role was solely air defence and the only unit flying at night. The air base was originally built by the Soviet Union, the first MiG-15s arriving in March 1952, they were eventually replaced by MiG-19s. The first squadron of MiG-21F-13s arrived in February 1962. On June 30, 1982, the 91st Fighter Regiment operated from Deveselu with the 48th Fighter Squadron. The 91st Fighter Regiment comprised of two squadrons (91/1 Squadron with MiG-21 MF/UM and 91/2 Squadron with MiG-21 PFM/US. On June 30, 1986, the 48th Fighter Squadron became the 71st Fighter Regiment and on June 9, 1987 was transferred to Câmpia Turzii.

Deveselu is no longer under the control of the Romanian Air Force.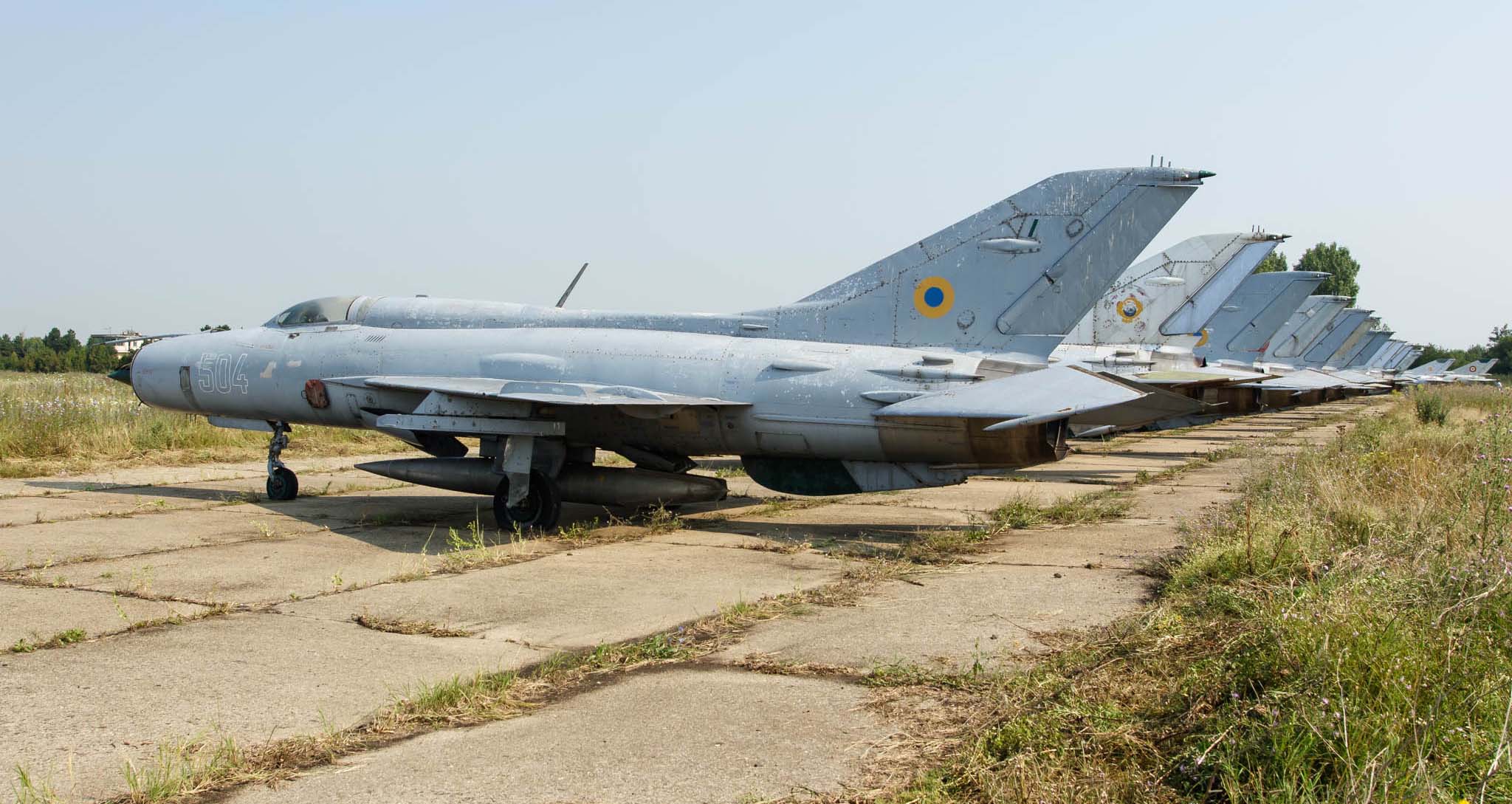 Mikoyan Gurevich MiG-21PF (504) at end of line 2.
Left to right: Mikoyan Gurevich MiG-21F-13 (705) and MiG-21M (503 x2), Romania received at least 60 MiG-21Ms from 1968.
Left to right: Mikoyan Gurevich MiG-21PFMs 'Fishbed-F' (8006 in LanceR style markings, 8102, 4707 and 5904).
Left to right: MiG-21PFMs (4712 x2 and 8103 x2).
Mikoyan Gurevich MiG-21PF 'Fishbed-D' (413)
Left to right: Mikoyan Gurevich MiG-21US 'Mongol-B' (3910 and 4109), MiG-21U-600 (5117) and MiG-21PF (505).
Left to right: Mikoyan Gurevich MiG-21PFs (413, 414, 501 and 505).
Left to right: Mikoyan Gurevich MiG-21F-13 'Fishbed-C' (20) in special display scheme. It was moved here from the Medias Aeronautics Training Centre.
Left to right: Mikoyan Gurevich MiG-21F-13 (12), MiG-21MF 'Fishbed-J' (9614) and IAR-93A (116). At least 38 MiG-21MFs were delivered from 1972.
Photography Note:

This was the fifth base on the Romanian Air Force press tour. The former Russian Air Force base has been closed for sometime and no longer comes under the administration of the Romanian Air force.
Unusually insects were a problem in Romania, particularly at this air base. Firstly there are so many of them in the air, very large and so appear in many of the images and unsightly 'blobs' which need to be clone stamped away in Photoshop. Secondly wasps at this base were very prevalent. When taking a shot from the back of a line, I trod on a wasp nest and was promptly stung. Others who asked to have nose cone protectors removed found there was a wasp nest in each one of them.