Military Low-Flying Training
Former Aircraft of the United Kingdom Low Fly System
All Things Must Pass
2003-2014
In 2003, when I bought my first digital camera, there were many more aircraft types using the United Kingdom low-fly System (UKLFS) than there are today. Military aircraft flying at low-level in those days were also more numerous. On a positive note, I did capture the first 29(R) Squadron Typhoon seen at low-level on August 2, 2004 , but since then I have seen the retirement of the Sea Harrier (March 28, 2006), Jaguar (December 20, 2007), Harrier (December 5, 2010), Dominie (January 20, 2011), Jetstream (March 11, 2011), Tornado F.3 (March 28, 2011) and C-130K Hercules (October 2013) from military service. For almost every type there were those in the military that had said that the particular aircraft was withdrawn too early, as it could still do a job. The need to reduce costs on many occasions however forced the Ministry of Defence to make the fateful decision and withdraw an aircraft from service.



Compiled below are representative images of all the aircraft types that no longer can be seen flying at low-level. For me it is sad to think that I will never see these aircraft flying low through a valley. This collection of images while nostalgic is meant to be a tribute to the pilots and squadrons that flew them. For some of the aircraft depicted I have bent my own rules slightly by including the Tornado GR.1 as the GR.4 is still flying for example. These images are from my own limited collection, I freely admit there are some gaps which regrettably will never be filled.
The first of 66 C-130K Hercules C.1 (most upgraded later to C.3 standard) were delivered to the RAF from August 1, 1967. RAF Lyneham in Wiltshire was the original home of the RAF's transport fleet of Lockheed C-130K Hercules. By March 2011 there were only nine C-130Ks in operation, three C.1s, one C.3 and five C.3As, the Hercules fleet was then transferred to RAF Brize Norton and in October 2013 the final C-130Ks were retired.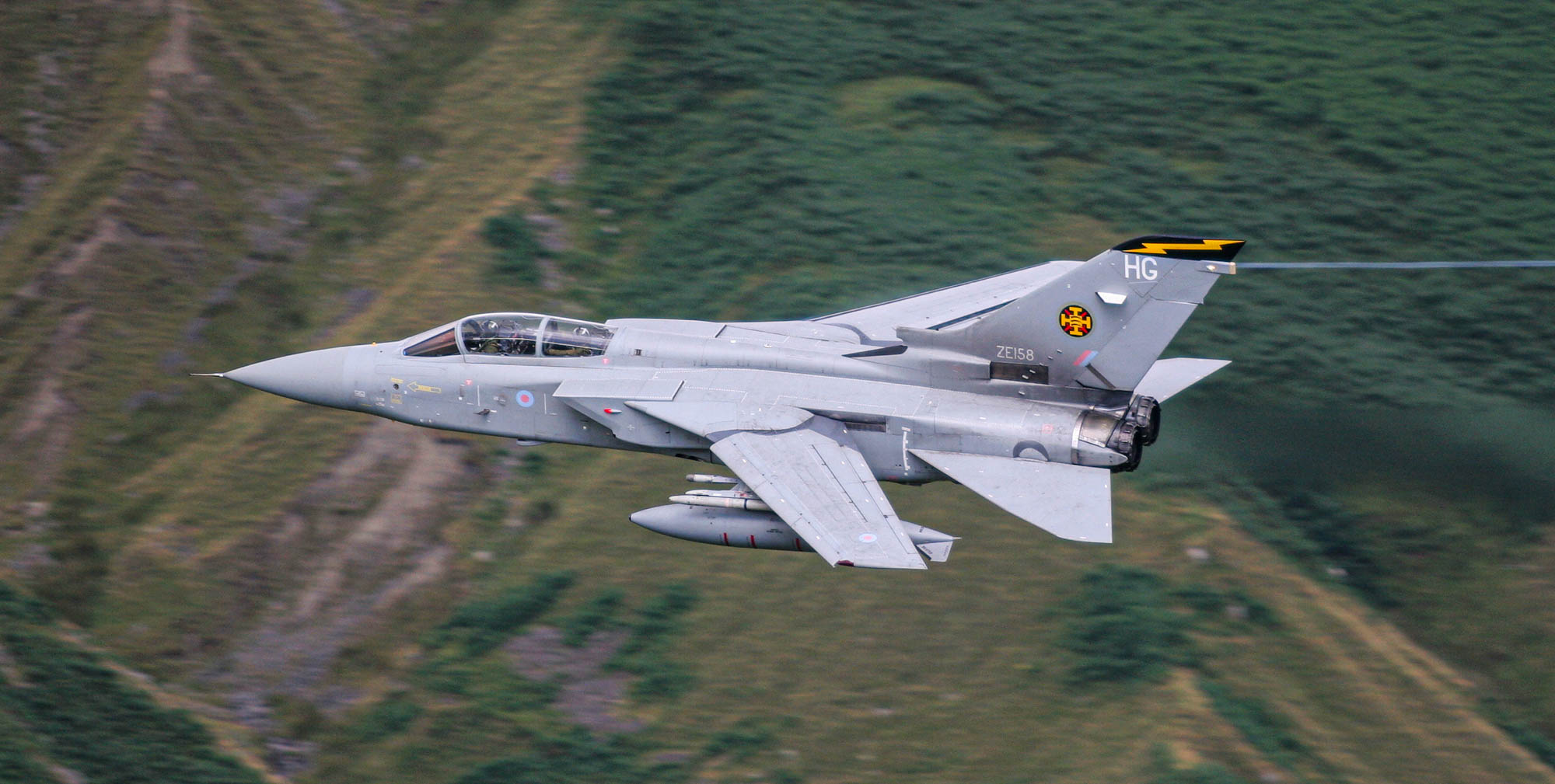 The last RAF Squadron to operate the Tornado F.3 was 111(Fighter) Squadron which disbanded on March 22, 2011 ending more than 25 years service with the Royal Air Force. See the

full story of the Tornado F.3s retirement

. The final eight of its aircraft were flown to RAF Leeming for spares recovery over the following ten days with the exception of one aircraft which was delivered to QinetiQ at Boscombe Down to join three others. The final flights to Leeming were made on March 28, 2011 by three specially marked aircraft. QinetiQ will continue to operate its four Tornado F.3s until the end of 2011 it is believed.
The first Tornado F.3 entered service at RAF Coningsby with 229 (OCU) in July 1986. Eventually a further six Squadrons (5, 11, 23, 25, 43 and 111) entered service with the RAF. Each Squadron had typically 15 aircraft and 20 crews on strength. Additionally 1435 Flight provided air defence for the Falkland Islands and was manned by a crew from each squadron until they were replaced by the Typhoon on September 12, 2009.
The Tornado F.3 since its introduction had been fitted with the Joint Tactical Information Distribution System (JTIDS). JTIDS or 'Link 16' which is now a very valuable tool for pilots in all type of aircraft. The data-link provides the pilot with a situational report of what other pilots and surveillance aircraft like the E-3D are seeing. JTIDS makes it easier to recognise friendly planes more easily, enabling them to focus on 'bandit' aircraft more quickly. JTIDS is a multi-service and multinational system. It is resistant to jamming and its data encryption makes it secure.
The more recently fitted Foxhunter Pulse Doppler radar provided a long-range detection capability, targets moving in any direction in relation to the F.3 could be monitored. The Weapons Systems Operator (WSO) monitored all Beyond Visual Range (BVR) targets, utilising the AIM-120 Advanced Medium Range Air-to-Air Missiles (AMRAAM). The AIM-120 simultaneously tracked four BVR targets, using data that initially could have been provided via JTIDS and before its own radar took over. For short range targets the Advanced Short-Range Air-to-Air Missile (ASRAAM) was available which had superseded the AIM-9L Sidewinder air-to-air missile.
Up until disbandment in April 2008 56(R) Squadron received pilots' fresh from 4 Fighter Training School at RAF Valley, to enter the Operational Conversion Unit course. Students spent the first six weeks at RAF Coningsby in lectures on the F.3s systems with time on the simulators. Moving to RAF Leuchars, pilots flew the first of 44 sorties, WSO's require just 34 sorties. For the pilots the first 15 sorties were used to teach them how to fly the F.3, 12 are flown 'dual' with a Qualified Flying Instructor (QFI), before the student went solo with an instructor navigator in the back-seat. Students during this phase would fly in close and tactical formations, initially during the day before moving on to night sorties. Air-to-air refuelling was introduced before the start of next phase of the course, which included target interception and the firing of air-to-air missiles.
Instruction on Basic Fighter Manoeuvres (BFM) followed involving interceptions and one versus one engagements down to 250 feet (76m). Defensive scenarios were now introduced, teaching student how to avoid being shot down them selves. Eventually two versus one practice intercepts were flown, to further challenge the WSO's before they moved onto to two versus two scenarios. Combat sorties at this stage are flown at medium and low-level, initially over the sea before two sorties were flown over land. The final and most difficult part of the course involved tactical formations (leader and wingman) flying against multiple threats. The final check sortie involved flying a Combat Air Patrol (CAP) against other types of aircraft such as Hawks and Typhoons.
Following graduation pilots and WSO's were transferred to one the front-line F.3 Squadrons for further training; including electronic warfare, air-to-ground strafing, air-to-air gunnery and intercepts against slow moving targets. Pilots will progressed to large four-ship formation flying before being declared combat ready and able to fly Quick Reaction Alert (QRA) sorties.
On March 22

111(Fighter)

Squadron disbanded at RAF Leuchars having handed over the Northern Quick Reaction Alert (QRA) duties to the Typhoon's of 6 Squadron. Six days later the last three of the 'Tremblers' Tornado F.3s using call-signs 'Scimitar 1 to 3' were flown to RAF Leeming. The short flight from Scotland to North Yorkshire was made at low-level with the specially painted jet (ZE734 'JU') of Wing Commander Mark Gorringe, Officer Commanding 111(F) Squadron in the lead. Trailing behind separated by five seconds was Tornado F.3 (ZE791) with a recently painted tail inscribed 'Tornado F3 25 Years' with Tornado F.3 (ZH554 'HX') with a the code 'JU-C' applied to commemorate the 70th anniversary of the Battle of Britain following. These were the last three RAF Tornado F.3s to be delivered to Leeming as part of the Return to Produce (RTP) program, where all useful parts are 'harvested' to keep the Tornado GR.4 fleet flying.

Left to right: Tornado F.3 (ZE734 'JU', ZE791 and ZH554 'HX' 'JU-C') using callsigns 'Scimitar 1 to 3' of 111(F) Squadron on their final flight from Leuchars to Leeming on March 28, 2011. These images taken in Cumbria at 13:24 on March 28 and were the last to be taken of an RAF Tornado F.3 at low-level, just 15 minutes later they were touching down for the final time. QinetiQ at Boscombe Down will continue to fly four or five Tornado F.3s, including one former 111(F) aircraft (ZE961 'HB') delivered there on March 24.
Tornado F.3 (ZE763 'HD') on its way to Leeming for scrapping on March 18, 2011.
Left to right:


25(Fighter)

Squadron were disbanded at RAF Leeming on April 4, 2008. 25(F) Tornado F.3s (ZE755 'YL') through the 'Loop' in March 2007.


11(Fighter)

Squadron were disbanded in October 2005 at RAF Leeming. Two years later they were reformed at RAF Coningsby with the Typhoon. On October 5, 2005 just days before disbanding Tornado F.3 (ZG755 'DL') is captured flying at low-level through Cumbria. Tornado F.3 (ZE342 'DZ') flying through the Lake District in June 2005.


QinetiQ

Flying from Boscombe Down Tornado F.3 (ZH552 'HW') in its former 111 Squadron markings was flown by Dave Southwood 'Tester 04' on the final low-level sortie of the type. It flew on to Warton for a flypast at 15:20 before touching down for the last time at 15:38 at RAF Leeming. The last three Tornado F.3s also flew in to RAF Leeming for scrapping a few days later.
750 Naval Air Squadron

operated the Jetstream from RNAS Culdrose. The Jetstream T.2 was used to train observers for the Fleet Air Arm leading to flying on the Sea King for Airborne Surveillance and Control, Merlin for anti-submarine and Lynx for anti-surface roles. Three Jetstream T.3s operated with 750 Squadron (Heron Flight) from RNAS Yeovilton in the operational support and communications role.

Slingsby T.67M Firefly
The Firefly was operated by the Defence Elementary Flying Training School (DEFTS) at Barkstone Heath, which comprised 703 NAS which had trained 60 Royal Navy students per year and 674 Sqn Army Air Corp which trained 70 Army Students per year. The Firefly was used on the Multi-Engine Lead-In (MELIN) course for students destined to fly the King Air B200. The 30 hour course and comprised general handling, procedural instrument flying, low-level navigation, formation flying, night flying and an introduction to dual-crew operations. The Firefly was retired from service on March 16, 2010 leaving the Grob Tutor T.1 at Barkstone Heath to continue basic flying training.

Left to right:
Jetstream T.2 (XX488 'CU-562') in September 2003 and Jetstream T.2 (XX476 'CU-561') in June 2006 in mid Wales.
Slingsby T.67 Firefly (G-BWXG) at Middle Wallop in April 2009, sadly I failed to see one of these aircraft at low-level.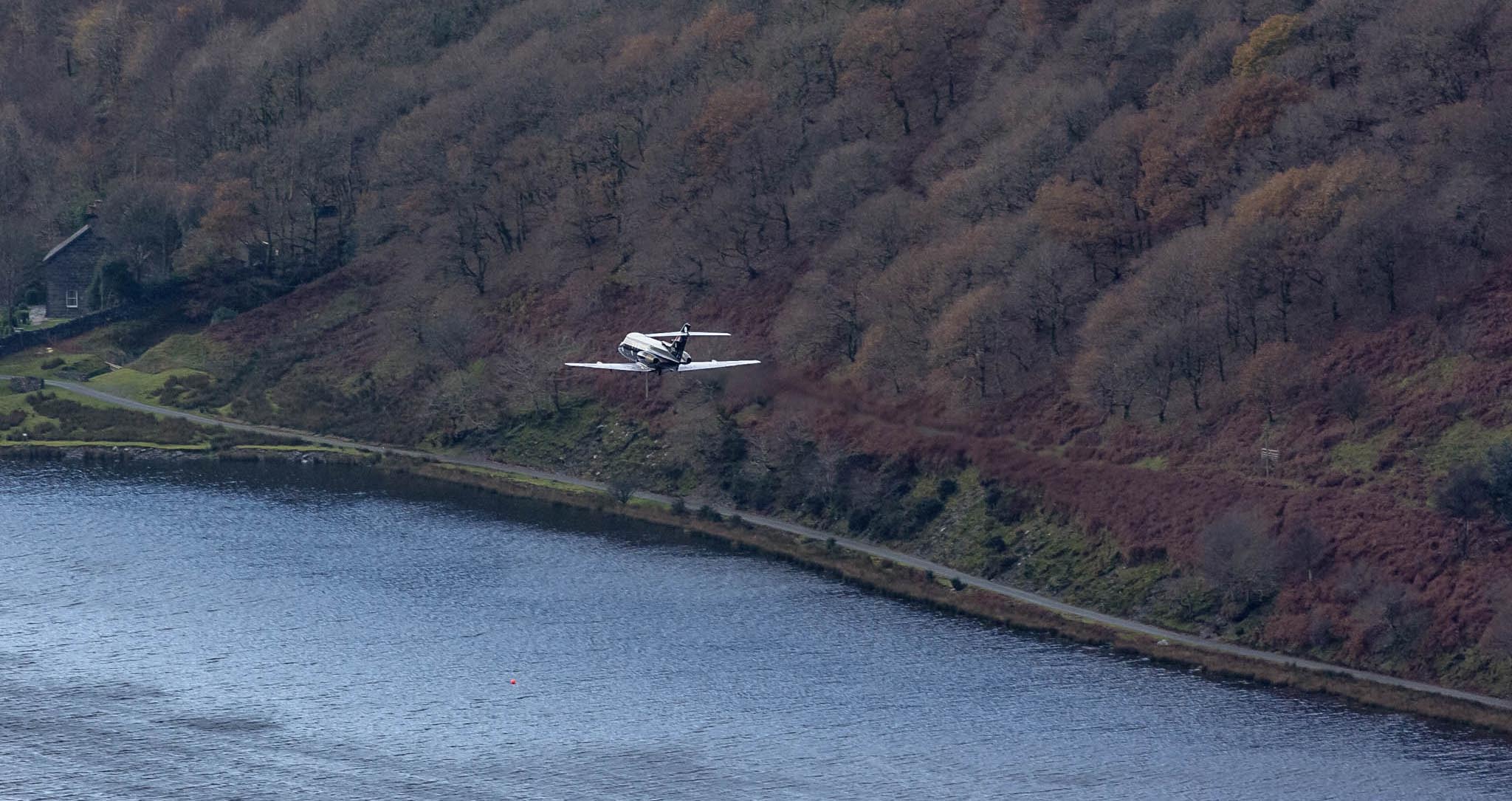 The Dominie was retired after 45 years of service at RAF Cranwell, the final flypast took place on January 20, 2011. See the full story here on the Dominies retirement.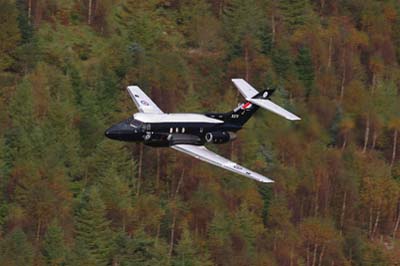 55(Reserve) Squadron was part of 3 Flying Training School (FTS) and operated the Dominie T.1 its retirement. The squadron was tasked with training around 150 students each year to become Weapons Systems Officers (WSO) or Weapons Systems Operators (WSOp). Most graduates went on to join Tornado equipped squadrons, the remainder moving to Air Transport (C-130), Maritime (Nimrod), Air Refuelling (VC-10 or Tristar) or ISTAR battlefield support on the Sentinel R.1.
D Flight was responsible for training pilots to fly the Dominie, principally for landings and take-offs from RAF Cranwell. E Flight provided student WSO's with navigational training. Students on the Basic Dominie Module (BDM) with 55(R) have progressed from flying the Tutor at Cranwell and the Tucano at Linton. On completion of the BDM students they were streamed to fast jets transfering to F Flight or to stay with E Flight for Air Transport or Maritime based navigational courses.
Students would have five flights as 'Nav One' here you were positioned in the back of the Dominie with the curtains closed. Those flights of usually around two hours are at medium level 14,000 feet (4,267m) to 24,500 feet (7,468m), their aim was to teach radar navigational techniques. Students would also fly as 'Nav Two' alongside the pilot carrying out safety duties and normal operating procedures.
Students that were streamed on to the Advanced Fast Jet Dominie Module (AFJDM) with F Flight, would then fly 13 sorties as 'Nav One' and on as many 'Nav Two' flights as they could get on. These two-hour sorties transited out at medium level, descending to low-level over the sea, which was easier and safer. The low-level part of the sortie will lasted around 1 hour 20 minutes. Again as 'Nav One', with the aircraft flying at 250 feet (76m) and at a speed of 210 knots, students had to navigate with the curtains drawn. The task for each sortie was to hit three targets on time with a tolerance of plus or minus ten seconds. On completion of the AFJDM students moved to the Navigational Training Unit at 100 Squadron based at RAF Leeming for 35 hours on the Hawk. Successful students would transfer to15(R) Squadron at Lossiemouth on the Tornado GR.4 or to 56(R) Squadron at Leuchars on the Tornado F.3.
BAE Systems Harrier GR.7/GR.9 and T.10/T.12.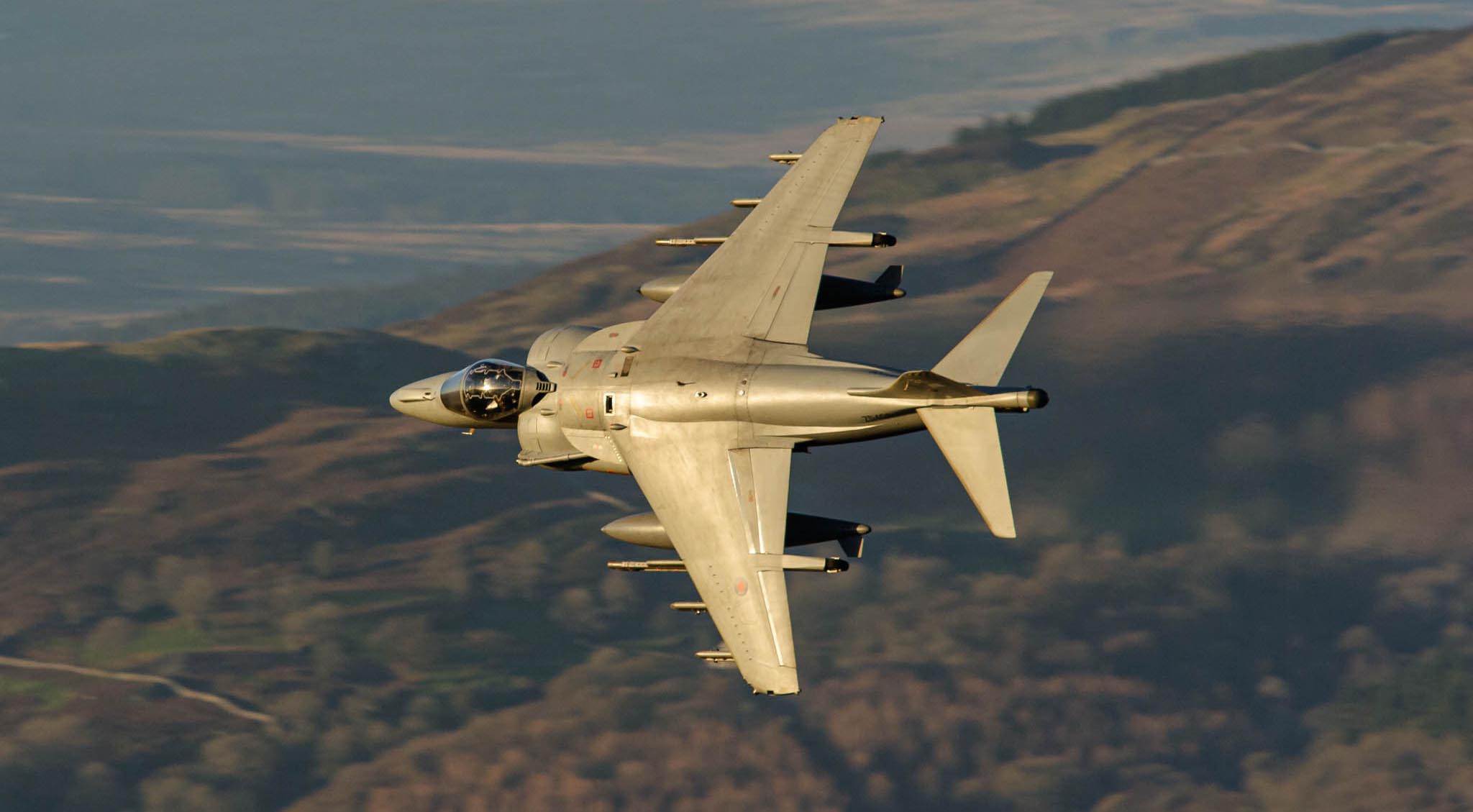 The Harrier was retired at RAF Cottesmore after 41 years of service, the final flypast taking place on December 15, 2010. See the full story here on the Harrier's retirement. The final fleet of Harriers were based on the GR.5 variant which entered service in May 1987 and introduced with full night time capability, a digital moving map, an Inertial Navigation System (INS) and a Hands-On-Throttle-And-Stick (HOTAS) system. From September 1990 to March 2010 the GR.5's were upgraded to GR.7 standard. From 2003 some of them were upgraded GR.7A standard which featured a more powerful Rolls-Royce Pegasus 107 engine. Under the Integrated Weapons Program the GR.7's were further upgraded to allow them to carry smart weapons, including Paveway laser guided bombs. Later the Lockheed Martin Sniper target pod was added to improve its effectiveness. From 2004 61 GR.7's were converted to GR.9 and 30 GR.7A's to GR.9A standard enabling them to use smart weapons such as Brimstone. 4(AC) Squadron in summer 2007 was training on the AN/AAQ-33 Sniper targeting pod which offers improved performance over the Thermal Imaging Airborne Laser Designator (TIALD). More upgrades were apparently planned for the GR.9 including a data link-16 capability. The two-seat Harrier T.10 version went into service from 1994 nine of the 13 built were upgraded to T.12 standard and two were upgraded to T.12A standard.

Following the Basic Fast-Jet Training (BFJT) course on the Tucano at RAF Linton, RAF and RN students moved to RAF Valley for a year to complete Advanced and Tactical Fast Jet training on the Hawk. Graduate students were then accepted at the Harrier OCU at RAF Wittering with

20(Reserve) Squadron

on the two-seat Harrier for Operational Flying Training (OFT). After completing their time with 20(R) they moved the short distance to RAF Cottesmore and the Joint Force Harrier (JFH) to fly the single-seat Harrier. RAF pilots would transfer to either

1(Fighter)

or 4(Army Cooperation) Squadron (disbanded on March 31, 2010) and the RN pilots to

800 or 801 Squadron

of the Naval Strike Wing (NSW), which is part of JFH. The NSW operated from either onboard an Invincible class aircraft carrier or from an airfield.



A typical Harrier low-level sortie

; "After departing Cottesmore and passing through the Lichfield Corridor I dropped into low-level 20 miles south of Shawbury. Fighting the fog down towards Brecon I attacked the first target a mast. Flying north there was better weather over the Western Plain of Wales and into the valleys of Mach Loop and on towards 'Betsy'. After a quick spin through the A5 pass I flew south east towards Lake Bala before attacking the bridge at Corwen and onto Lake Vernwy. I headed back home towards the Clee Hills to pull up to medium level and return to base."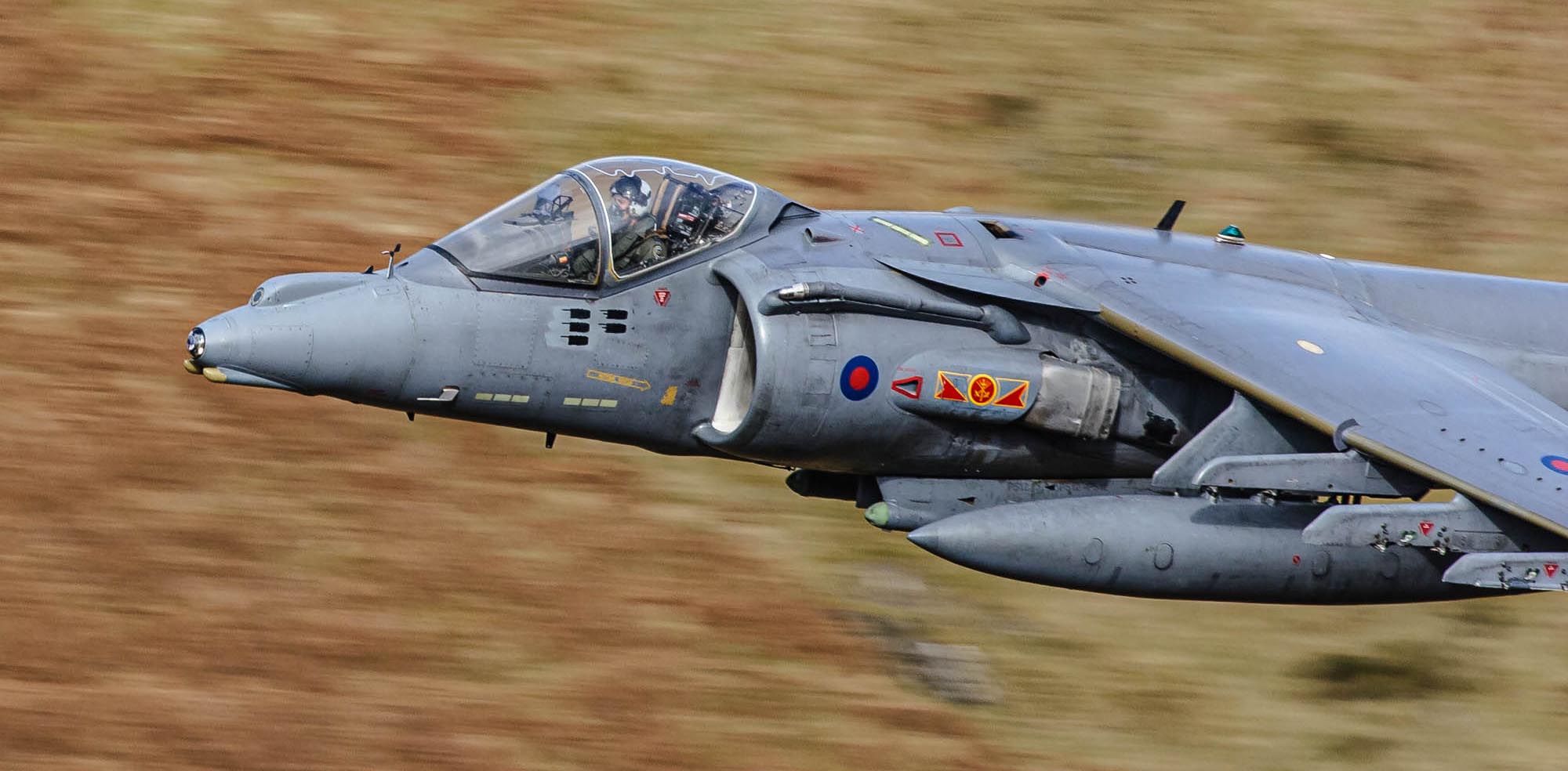 Harrier GR.7A (ZD376 '24A') flying at low-level in Wales with 800 NAS in its first week of operation on April 6, 2006.
1(Fighter) Squadron

was the first unit to operate the Harrier GR.1 in July 1969 when it was reformed at RAF Wittering. 1(F) converted to the GR.5 in 1989 and to the GR.7 in 1992. In July 2000 they moved to RAF Cottesmore. After forming the new Joint force Harrier (JFH) with 4 (Army Cooperation) Squadron and the Royal Navy 800 NAS and also later with 801 NAS the Harrier was retired from service in December 2010.

3(Fighter) Squadron started operating the Harrier in the early 1970s in Germany. In 1999 they moved to RAF Cottesmore. On April 1, 2006 3(F) Squadron disbanded at RAF Cottesmore and reformed at RAF Coningsby to become the first frontline squadron to become operational on the Eurofighter Typhoon.



4(Army Cooperation) Squadron

was reformed with the Harrier GR.1 in June 1970 in Germany. In 1989 they converted from the GR.3 to the new GR.5 variant. By 1992 they were operating the GR.7 version before moving on to the GR.9 having moved to RAF Cottesmore in April 1999. On March 31, 2010 4(AC) Squadron disbanded at RAF Cottesmore and 4(Reserve) Squadron reformed at RAF Wittering as the Operational Conversion Unit (OCU), replacing 20(R) Squadron which disbanded at that time. However as a result of the Strategic Defence and Security Review announced in October 2010 4(R) Squadron aircraft moved to RAF Cottesmore on December 10, 2010 in readiness for for the Harrier's retirement on December 15, 2010.



20(Reserve) Squadron

was reformed at RAF Wittering in 1992 as the Harrier Operational Conversion Unit (OCU). On March 31, 2010 20(R) Squadron disbanded, 4(AC) Squadron disbanded at RAF Cottesmore and 4(Reserve) Squadron reformed at RAF Wittering as the new Harrier OCU, replacing 20(R) Squadron.

800/801 Naval Air Squadron Joint Force Harrier (JFH) which was formed on April 1, 2000 combining the RAF's Harrier GR.7s with the Royal Navy's Sea Harrier FA.2'. It's aim was to draw together the two services, combining the best tactics and training procedures to produce a very effective strike force that can deploy from land and sea. With upgrades to the RAF's Harriers to GR.7A and eventually to GR.9/9A standard it was decided by the MOD in 2002 to retire prematurely the less capable Sea Harrier FA.2.
801 NAS was re-commissioned in October 2006 adding a black and white chequered tail to the existing 800 NAS Squadron Harriers which had previously reformed on March 31, 2006 and were allocated 13 Harrier GR.7A/GR.9s from RAF Cottesmore. In March 2007 the Naval Strike Wing (NSW) was formed with the Harrier it comprised elements of 800 and 801 Squadrons and was the Fleet Air Arm's only fixed wing strike force. The NSW was one of three squadrons, the others were 1(F) Squadron RAF and 4(AC) Squadron RAF which made up JFH. In March 2010 800 and 801 NAS were merged to form a single squadron which will be 800 NAS. The new Joint Strike Wing (JSW) consisted of 1(F) Squadron and 800 NAS. Under the Strategic Defence and Security Review 800 NAS effectively disbanded with the Harrier retired on December 15, 2010.

Left to right:
Harrier GR.9A (ZD433 '45A') with an array of mission markings from its deployment to Afghanistan in 2007. It is flying through mid Wales on November 10, 2010 on what was almost the final Harrier low-level sortie.
Harrier GR.7 (ZD379 '27') with 3(F) Squadron low-level flying through mid-wales in September 2005.
Harrier GR.9 (ZD438 '50') one of a pair it was still in its old 4(AC) Squadron markings in May 2010.
Two-seat Harrier T.10 (ZH664 '112') with 20(R) in October 2005.
Left to right: Harrier GR.9 (ZG508 '79') with 801 NAS Squadron markings on the tail, it was the first of a pair from 800/801 NAS using callsign 'Vixen Flight' in September 2009.
Harrier GR.9 (ZD320) is the BAE Systems GR.9 prototype in August 2005.
Sea Harrier F/A.2 (ZH808 'N003') of Royal Navy 801 Naval Air Squadron in September 2004.
Harrier GR.7 (ZG857) with the Fast Jet and Weapons Operations and Evaluation Unit (FJ&W OEU) based at Coningsby in August 2004, they were later renumbered 41(Reserve) Squadron.
Jaguar GR.3 (XZ394 'FG') with 41 Squadron when based at RAF Coltishall in June 2005.
The SEPECAT Jaguar is an Anglo-French ground attack jet aircraft, built specifically for the RAF and the Armée de l'Air. It became operational in March 1973 when the Jaguar Operational Conversion Unit (JOCU) was established at RAF Lossiemouth and later designated 226 OCU on October 1, 1974. In 1993 the 226 OCU was renumbered 16(Reserve) Squadron. They later moved down to RAF Colitishall before being disbanded on March 11, 2005.
54 (Fighter) Squadron was formed at RAF Coltishall on March 29, 1974 after a short period at RAF Lossiemouth. They were disbanded on March 11, 2005.
6 Squadron after an initial period at Lossiemouth from September 1974 moved to RAF Coltishall on November 5, 1974. 14 Squadron was next at RAF Bruggen receiving its first Jaguar on April 7, 1975, followed by 17 Squadron in June 1975. 31 Squadron started receiving its compliment of aircraft on December 19, 1975. The first Jaguar for II (AC) Squadron was delivered to RAF Laarbruch on February 26, 1976. 20 Squadron at RAF Bruggen was next with its first Jaguar arriving on January 5, 1977, losing their Jaguars in June 1984 when the Squadron converted to the Tornado GR.1. 16(R) Squadron took up residence at RAF Coltishall on July 20, 2000, they were eventually disbanded on March 11, 2005.
In total 165 single-seaters and 38 two-seaters were supplied to the RAF and its test units.
6 Squadron

had the longest continuous history of any RAF Squadron as it was the only one of the original seven Royal Flying Corps (RFC) Squadrons never to have been disbanded. After many years at RAF Coltishall they moved up to RAF Coningsby in April 2006. Sadly the Squadron ended operational flying on April 30, 2007 (see Jaguars Retire). On May 30, 2007 6 Squadron was disbanded at Coningsby.



41(F) Squadron

was based at RAF Coltishall from October 1, 1976 with a Squadron of Jaguars until it's disbandment on March 31, 2006. 41(F) had taken delivery of its first Jaguar on October 1, 1976 and went on to be declared operational on April 1, 1977.

Left to right:
6 Squadron Jaguar T.4 (XX840 'EY') low flying in Wales on May 22, 2007 on the final days of the Jaguar with the RAF.
6 Squadron Jaguar GR.3As (XX723 'EU', XX117 'ES') low over Norfolk on June 14, 2006.
Jaguar GR.3 (XZ392 'EM') in April 2006, 6 Squadron had just moved their Jaguars from Coltishall to Coningsby,
Jaguar T.4 (XX847 'PY') of 16(R) Squadron from RAF Coltishall in September 2004 in Cumbria.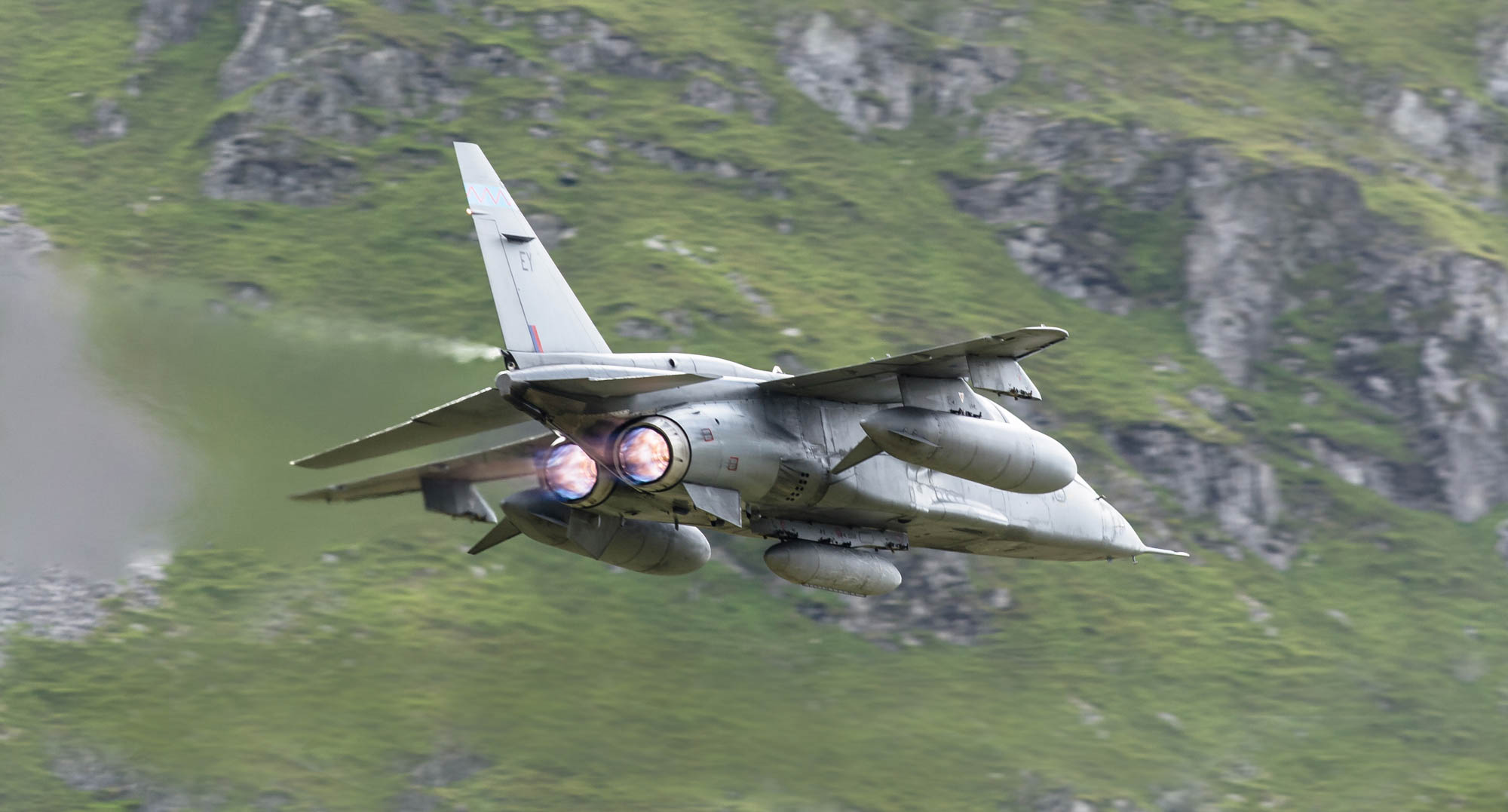 Jaguar T.4 (XX840 'EY') on one of last Jaguar low-level sorties in Wales on May 22, 2007.
Left to right:


QinetiQ

are responsible for the Aircraft Test and Evaluation Centre (ATEC) and the Empire Test Pilots School (ETPS) and are both based at Boscombe Down. They regularly fly low-level sorties for weapons and system testing and to keep the aircrew current. ETPS Tornado GR.1 (ZA326) in LFA 17 in June 2005, at that time it was the only Tornado GR.1, the rest of the fleet had been upgraded to GR.4 standard, it was retired a few months later.



BAE Systems

regularly utilise the UKLFS for flight testing aircraft under development or prior to delivery. Hawk 132 (ZK121) with BAE Systems at Warton during a flight test prior to delivery to the Indian Air Force seen in May 2008.
Lockheed MC-130H Combat Talon II


The 352nd SOG at Mildenhall area of coverage includes Europe, Africa and the Middle East. As Mildenhall is also the home of 100th Air Refuelling Wing with KC-135 tankers, AFSOC aircraft can be deployed anywhere very quickly. The 352nd SOG is the air component of Special Operations Command Europe and administratively a member of AFSOC. The group has deployed in support Operations Desert Storm, Provide Comfort, Deny Flight and on to Enduring Freedom and Iraqi Freedom. Prior to deactivation, the 352nd SOG comprised of; 21st SOS, the 67th SOS with five MC-130P and a C-130E and the 7th SOS with four MC-130H until December 2014 when the MC-130H was retired in favour of the MC-130J Commando II the first of which having arrived on June 7, 2013. The last MC-130H Combat Talon II (88-0195) left on January 8, 2015, bringing an end to 7th Special Operations Squadron (7th SOS) at RAF Mildenhall and Talon operations in Europe. The 7th SOS aircraft will join 15th SOS at Hurlburt Field in Florida.
Left to right:
MC-130H Combat Talon IIs (88-0191, 88-0195, 87-0024 and 88-1803) of 352nd Special Operations Group, 7th Special Operations Squadron at 500 feet (152m) following the terrain. The last flight in the UK before the type's retirement was made on December 2, 2014 by 88-1803 (see above).

Former RAF Warbirds can be seen flying at low-level from time to time bringing back memories of times when they used to fly low operationally.
Left to right: The Vulcan Operating Company's (TVOC) Avro Vulcan B2 (XH558 / G-VLCN) at Windermere Air Show in July 2009.
Hawker Hunter F.58A (G-PSST) through Loop on way home from Duxford show in October 2012.
BAC Jet Provost T.3A (G-BVEZ / XM479) through Loop on way home from Duxford show in October 2012.