Cold War Relics in Romania
July 2006
Romania has moved away from Soviet dominance under the Warsaw Pact and has seen the fall of Communism to join NATO in 2004. It is not surprising that Romania is now rich in obsolete aircraft (wrecks and relics). Some air bases have closed, but their aircraft still remain abandoned, in the vain hope that they could be sold on. Other bases are littered with obsolete and discarded aircraft from the 'Cold War'.



To understand how this all came about we need to go right back to the beginning. Romania has had quite a turbulent past with its borders changing due to internal and external forces since its creation in 1862. Despite or perhaps because of these influences, its aviation history is both interesting and varied. Romania was the fifth nation to have an air force as a separate entity within the military. The Romanian Flying Corps was formed on August 10, 1915. During World War One they flew against the Austro-Hungarian and German forces before they were overrun. At the end of the War a new Air Force was established. During the 1920s and 1930s aviation in Romania thrived, with 2,000 military and civilian aircraft manufactured by seven Romanian companies.

Under German influence the Royal Romanian Air Force was reorganised and increased, so that it was able to fight effectively against the USSR between 1941 and 1944. Under the pressure of Allied attacks the Red Army overran the Romanian forces and the military dictator Antonescu was deposed by King Michael. With the help of the Soviets the Germans were forced to retreat from Romania and the Royal Romanian Air Force were now fighting campaigns against Germany over Hungary, Czechoslovakia and Austria. In 1947 King Micheal was exiled and a People's Republic proclaimed, the 'Royal' was dropped and the Romanian Air Force to become the, 'Fortele Aeriene ale Republicii Populare Romane'. Now under Soviet influence the Air Force was supplied Yakovlev Yak-18 piston engine trainers in 1950, followed by two-seater jet Yak-17s and Yak-23s by train inside crates in summer 1951. The first MiG-15s arrived in 1952 and were based at Ianca. MiG-17s arrived in 1955 and Romania's first supersonic fighter, the MiG-19, entered service in 1958. In 1962 the first twelve MiG-21F-13s arrived at Deveselu and so began Romania's long association with the MiG-21 which continues to this day with their own upgraded MiG-21 LanceR's.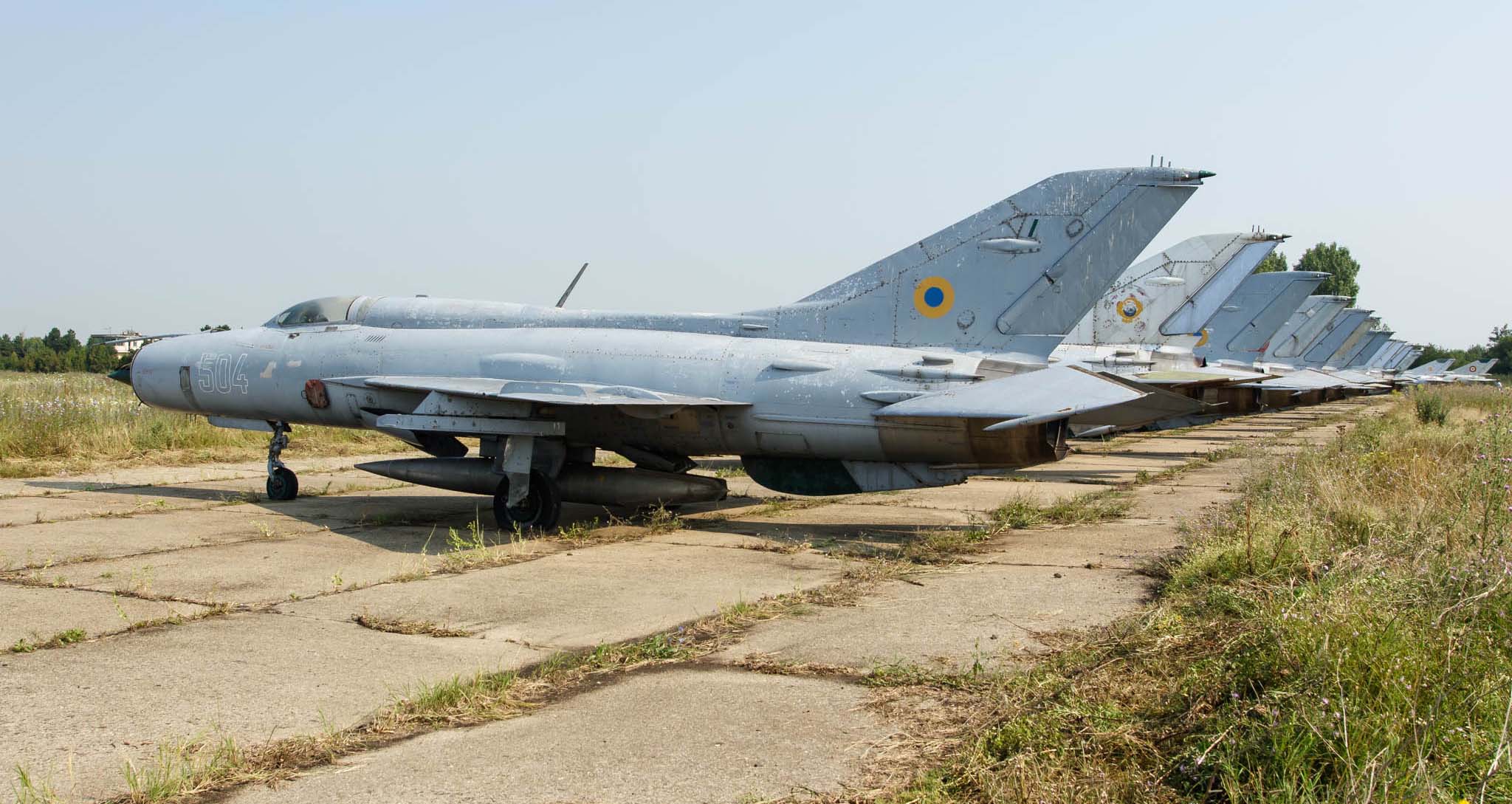 Mikoyan Gurevich MiG-21PF (504).
From the 1960s Romania re-established its military aviation industry, by manufacturing under license a number of Western aircraft, including the Aérospatiale SA.316B Alouette III and SA.330 Puma. The IAR-93/J-22 Orao was jointly developed with Yugoslavia from 1971 under the 'JUROM' agreement.
Romanian involvement in the Soviet suppression of the Hungarian revolution of 1956 was rewarded in 1958 by the full withdrawal of Soviet troops from its territory. Romania became a Socialist Republic in 1965. Under the President Nicolae Ceaucescu, the military forces were built up and by the time of the fall of his regime in 1989, the Air Force had 32,000 personnel and over 500 combat aircraft. Since 1989 Romania has gone through a vast restructuring of its Air Force and a rationalisation of its aircraft, which had now been reduced to 300.

On June 1, 1995 the Forţele Aeriene Romne, as it was now called, dropped its communist style regimental system adopting a system consisting of Air Bases (Baza Aeriana), Groups (Grupal) and Squadrons (Escadrila's). On December 15, 2001 the Groups were dropped and the Squadrons now come under the direct command of the Bases. In 2001 there were 14 active air bases, but by 2004 this had been reduced to just five.

MiG-21 LanceR-As in open storage at Bacău Air Base (Baza Aeriana 95).
By the mid 1990s and with Romania's economy improving a decision was made to upgrade 110 of its MiG-21s. The MiG-21 LanceR's new systems made it a far more potent aircraft and most importantly, compatible with NATO standards. By 2003 the remaining MiG-21s, MiG-23s and MiG-29s had all been withdrawn from service. The LanceRs are due to be withdrawn by 2011 and replaced by new fighters. As an interim measure it is expected that Aerostar and Elbit will again work together to upgrade and supply former Israeli Air Force F-16A/Bs.

In November 2002 Romania was invited to join NATO, formally entering on April 2, 2004. Currently a reform plan named 'Objective Force 2007' is in operation, following on from 'Programme Force 2003'. Romania is working towards an optimum level of military hardware and personnel to take them forward within NATO and to be able to provide a rapid reaction force. Working with NATO Romania has a Membership Action Plan (MAP), which focuses on increasing the interoperability, deployability and sustainability of its forces earmarked for peace-support operations. Romania is restructuring its military away from large, heavy Warsaw Pact-era forces toward smaller, light and more mobile units that will be better able to serve in NATO operations in the future.
In 1999 around ten MiG-23s were transferred from Mihail Kogalniceanu (Grupul 57) to Timisoara leaving five non-airworthy aircraft in open store. Timisoara has 28 MiG-23MFs and six MiG-23UB in open store since 2003 and the base is now closed. In 2003 the MiG-29s were withdrawn from service as the budget for a much needed upgrade could not be found and these aircraft also went into open store at the north eastern end of Mihail Kogalniceanu airfield.
Left to right: MiG-29 Fulcrum's (69, 76) and MiG-23 Flogger's (224 and 926).
Four withdrawn Harbin/Hong H-5s which are Chinese reverse engineered Iluyshin IL-28s at Bacău Air Base.
Left to right: Harbin/Hong H-5 (708, 706) and HJ-5 (407) at Bacău. H-5 (308) one of six withdrawn at their former base Borcea-Fetesti since the final flight of the H-5 on August 26, 2001.
Left to right: Antonov An-2 (34) was operational at Bacău until the unit was disbanded in 2003. An-2R's (55 and 31) in open storage at Boboc. Unmarked AN-2 on a Bucharest roundabout and has only 'Primaria Sectorului 2' on the side.
Left to right: Aérospatiale SE.3160 Alouette III (87) inside Boboc air base amongst the main buildings. Mil Mi-8T (723) in a compound by the main gate at Otopeni air base. On display just inside the main gate at Bacău is a MiG-15 (253) and the sole LIA-88 Soimul (YR-LIA). This aircraft was built by the school at Bacău in 1983 and has not actually flown.
Left to right: Mikoyan Gurevich MiG-21PFM (8005) and MiG-21F-13 (709) at Boboc. MiG-21F-13 'Fishbed-C' (20) in special display scheme, it was once at the Medias Aeronautics Training Centre. MiG-21UM 'Mongol' (6956) at Bacău is rumored to have a potential buyer from the U.S.
IAR-93B (216) trying to escape the vegetation at Craiova.
Left to right: At Craiova with the 322 Aviation Maintenance Centre (Centrul de Mentenanta 322 Aviatie) are still around 60 IAR-93s and 60 MiG-21s in open storage since they were withdrawn from service in 1998 and 2003 respectively. A number of aircraft had been scrapped in the last few years.
Left to right: Aero L-39ZA (124 x2) and Aero L-29 Delfin's (28 and 49) all withdrawn from service on the airfield at Boboc. L-29 Delfin (37) inside the Boboc's main gate, with Mikoyan Gurevich MiG-155UTI (3020).
Left to right: MiG-21M (903) 'Dolly', MiG-21 LanceR-A (9701) and MiG-21PFM (4715) all with the Technical Training School at Boboc.
Left to right: SA.330A Puma (09), IAR.316B Alouette (59) and MiG-21F-13 (706) 'Popic' all with the Technical Training School at Boboc.
Left to right: Anotonov An-26s (207 and 307) with Antonov An-24TV (1912) and An-24RT (5022) all withdrawn and parked in compound near main gate at Otopeni air base.
For more images and additional information on the aircraft histories, please click on the links to individual base reports at the top of this page.