Exercise 'Spring Flag 2008'
Decimomannu Air Base
Sardinia
April 1-18, 2008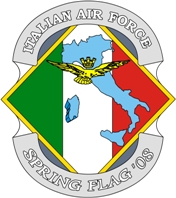 The German Air Force - Luftwaffe at Spring Flag 2008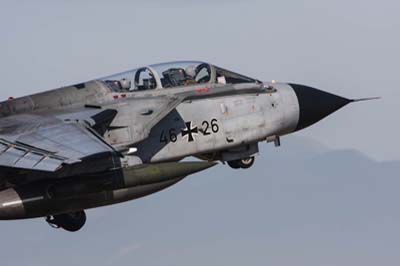 Three German Air Force Tornado ECR (Electronic Combat and Reconnaissance) of JBG 32 based at Lechfeld were taking part in the exercise. Their role was Surpression of Enemy Air Defences (SEAD). The ECR variant was introduced in 1991 and is equipped with AGM-88 HARM for SEAD role and AIM-9Li Sidewinder missiles for self-protection.
There were many more German Tornado based at Decimo', Around 16 JBG 32 Tornado IDS/ECR's were part of an eight week TDY and were flying numerous missions to the ranges each day. On day 2 a further six Tornado IDS of AG 51 arrived and were believed to be working up for a deployment to Afghanistan. On day 5 three Tornado IDS of JBG 33 arrived.
German Air Force Tornado ECR (46+26) of JBG 32.
Left to right: Tornado ECR (46+36, 46+39, 46+57 and 46+43). The last image shows the aircraft still covered in a coating of orange sand after its sortie on day 5. During the day before rain containing sand carried form the Sahara Desert and fallen on all the aircraft in the flight line.
The German Tornados which were working the ranges and not part of SF08
Left to right: Tornado (45+35 with 45+79, 43+37, ? and 43+43).
Left to right: Tornado (?, 44+46, 45+76 and 45+51).