Exercise 'Spring Flag 2008'
Decimomannu Air Base
Sardinia
April 1-18, 2008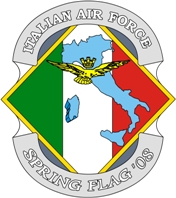 The Turkish Air Force - Turk Hava Kuvvetleri (THK) at Spring Flag 2008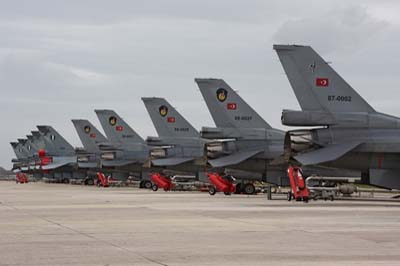 Four Turkish Air Force Lockheed Martin F-16C Fighting Falcons and a two-seat F-16D from 142 Filo based at Akinci participated in Spring Flag. At last years exercise it was the turn of their sister squadron 141 Filo. They arrived with 51 personnel and worked closely with the Hellenic and Italian Air Force in the close air protection and sweep role. After the COMAO on day 3 two pilots flew against two Italians in a two versus two in air to air combat using the ACMI training area.
Two-seat F-16D Fighting Falcon (87-0002) returns to base.

Left to right: The THK pilots and groundcrew added some extra colour to SF08 with their individual brightly painted helmets. When their job was done groundcrew lined up to see their planes off.
Left to right: F-16C Fighting Falcons (88-0032, 88-0031, 88-0029 and 88-0027).
The two-seat F-16D Fighting Falcon (87-0002) leads a pair of 142 Filo aircraft back to the flight line after their sortie.